Introduction
Do you find it difficult to find trousers that meet all your requirements? What about a pair of trousers that look great and feel great for everyday use, but can also be worn climbing and other outdoor activities? What about a pair of trousers that can transition easily from the office to a trip to Italy or a walk in Yosemite?
Gramicci Original G Pants are for you if you responded yes to any of the above questions. These trousers, first created for rock climbing in 1982 but now a staple of the outdoor lifestyle, are renowned for their durability, style and comfort. The gusseted crotch, adjustable waist, sturdy cotton and laid-back aesthetic of these trousers are just a few of the ways in which they stand out from the crowd.
This article is a review of the Gramicci Original G Pants, the climbing pants that are appropriate for the office, Italy, and Yosemite. We'll break down the background of these trousers, how they came to be, and how free climbing pioneer Mike Graham used them to change the game for outdoor clothing.
We'll talk about how these trousers look and feel, and how they're the perfect combination of durability and mobility for climbing and other outdoor activities. We'll also demonstrate the trousers' adaptability and variety by providing real-world instances of how they were worn in the workplace, in Italy, and in Yosemite. Finally, we'll offer some suggestions on how to keep these trousers in good condition for as long as possible, including how to wash, dry, iron and store them.
The history and concept behind Gramicci Original G Pants
The fascinating history of Gramicci Original G Pants begins in 1982. Stonemasters member and free climbing pioneer Mike Graham invented them in the 1970s in Yosemite Valley. Mike Graham was unhappy with the available climbing gear since it was too constricting and uncomfortable for him. To maximise his comfort and safety when climbing, he set out to design a new pair of trousers.
Gramicci Original G Pants were his brainchild; they lacked an inseam thanks to a gusseted crotch. Because of this, he was able to take larger steps, splits, and heel hooks while climbing. He also designed a built-in nylon belt that could be tightened or loosened without the use of a buckle or loops, making the waistband adjustable. When using a harness or a backpack, this made his life easier and more comfortable. In addition, he opted for a robust cotton fabric that was comfortable to wear and easily ventilated, yet sturdy enough to withstand wear and tear.
Mike Graham took his climbing community nickname, "Gramicci," and turned it into the name of his brand. The back of his vehicle became his storefront, setting up shop at climbing gyms all across the country. Climbers everywhere praised his trousers for their practicality and unique design. They came to represent the 1980s countercultural ethos of rock climbing.
Gramicci Original G Pants began as a modest line of pants, but the company has grown to include a wide variety of other garments, including casual shirts, shorts, and pants. Skateboarding, surfing, hiking, riding, and even the music scene have all adopted them. People who care about their comfort, quality, and appearance can't live without them.
The fit and feel of Gramicci Original G Pants
Gramicci Original G Pants have a relaxed, loose fit that is great for climbing and other outdoor sports, and a sleek, form-flattering design that looks great on a daily basis. They are designed to be universally flattering, so their basic fit is neither too snug nor too loose. The rise is almost halfway between the waist and the hips, making them a great compromise. The legs are straight and narrow at the ankle.
Gramicci Original G Pants are distinguished from other pants by their gusseted crotch. Without adding bulk or extra fabric, it allows you additional space and mobility. It safeguards the inseam region from tearing or chafing. The fact that the waist may be loosened or tightened is another convenient and comfy detail of these trousers. You can modify the fit to suit your individual needs and the demands of your daily routine. The use of a belt or loops, both of which can be irritating or uncomfortable when wearing a harness or backpack, is therefore unnecessary.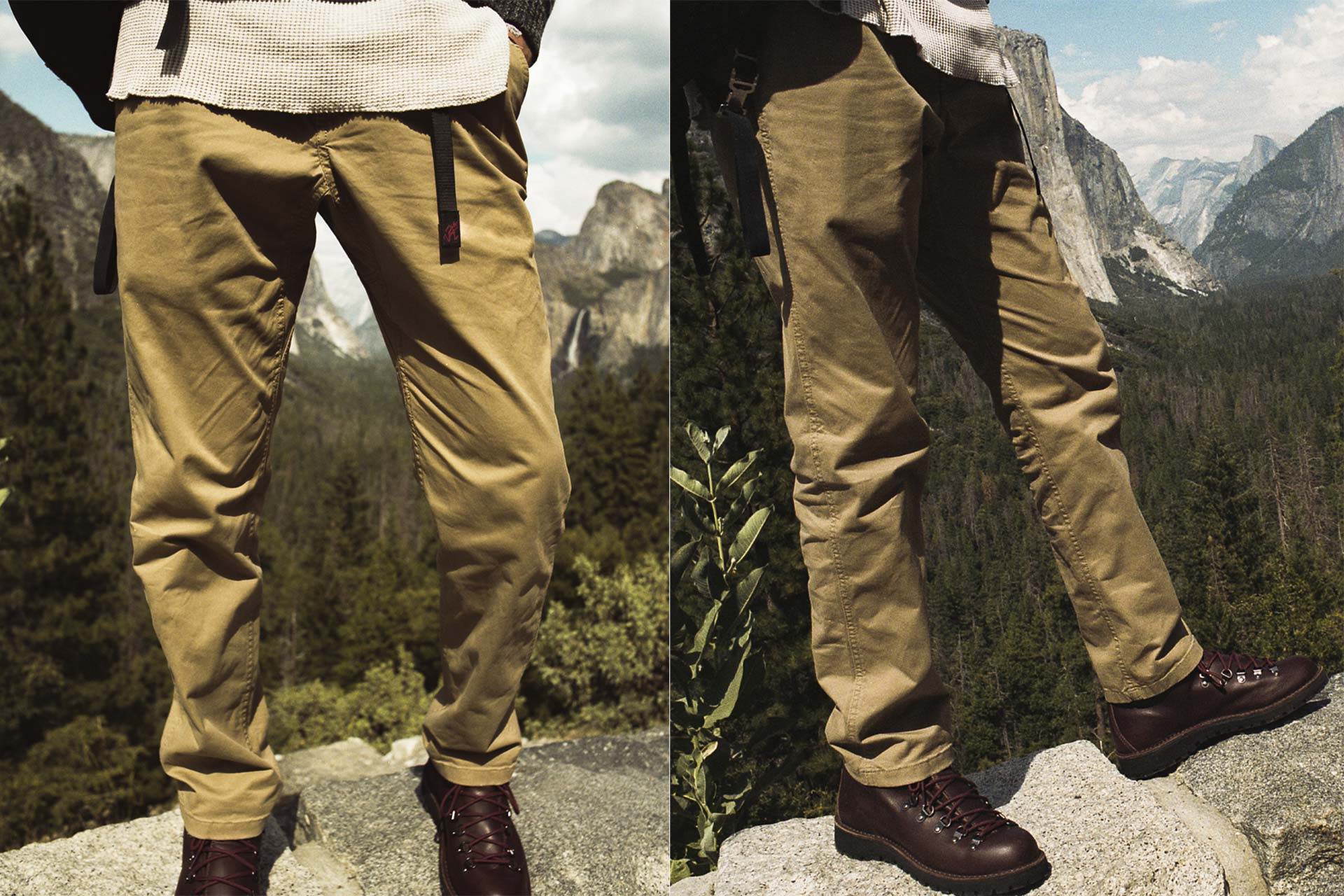 The stretch cotton twill used in the construction of the Gramicci Original G Pants is both comfortable and tough. The trousers are more comfortable and versatile thanks to the little elasticity. In addition, the garment-dyed finish adds a touch of authenticity to the trousers' well-loved appearance. There's a wide range of colours and prints available, so you can choose something to match your personal aesthetic.
The Gramicci Original G Pants include two convenient front pockets and two roomy, secure hook-and-loop back pockets. The inbuilt adjustable belt is not only convenient, but also gives the trousers a stylish touch. They flaunt the history and identity of the brand with a logo label on the front pocket and a logo patch on the rear waistband.
Gramicci Original G Pants, as shown in various circumstances and examples involving the workplace, Italy, and Yosemite.
Whether you're in the office, in Italy, or in Yosemite, you may feel comfortable in a pair of Gramicci Original G Pants. Depending on how you accessorise, they can be worn during a wide range of seasons and events. Here are several ways in which you can put these trousers to use at the office, in Italy, and in Yosemite:
Gramicci Original G Pants are perfect for the office if you work in a more laid-back or artistic environment. For a more put-together casual look, try matching them with a button-down shirt or polo. A blazer or jumper will help you look more put together. Pants can be any dark or neutral colour, such black, navy or khaki, and will go with any shirt or jacket. Wearing a watch and/or glasses will help round out your ensemble.
Wearing a pair of Gramicci Original G Pants while sightseeing in Italy is a great way to show off the country's unique style. For a casual, at-ease style, wear them with a t-shirt or tank top. If you want to look even cooler and edgier, throw on a leather or denim jacket. Pants can be a contrasting colour to your top or jacket, so try something bold or pastel like red, yellow or green. Hats and scarves are also great ways to jazz up a plain outfit.
Gramicci Original G Pants are a great addition to any Yosemite climber's wardrobe. To stay warm and cosy, wear them with a long-sleeved shirt or a sweatshirt. For further insulation, a vest or fleece may be added. Pants in a camouflage or checkered design in shades of brown, green or grey will help you blend in with your natural surroundings. A backpack or carabiner can be used as an accessory to hold your equipment.
The tips and advice on how to care for and maintain Gramicci Original G Pants
If you follow these guidelines, your Gramicci Original G Pants will look and feel great for years to come. Some examples are as follows:
Care: When washing your trousers, use cold water and a moderate detergent. In order to avoid any discoloration or stains, you should wash them with the inside out. To prevent snagging or tearing, wash them separately from other things, especially those that include zippers, buttons, or hooks. Bleach, fabric softener, and dryer sheets can all be harmful to the fabric or the colour they're meant to preserve.
Pants should be dried on a low heat setting or by laying them flat to air dry. Drying them in the dryer or the sun can cause them to shrink or fade. They can easily expand or lose their form if wrung or twisted.
Pants should be ironed on a low setting using steam. They can get scorched or burned if ironed too hot or without steam. It's also not a good idea to iron them, as doing so can leave permanent marks or wrinkles on the seams, pockets, belt, or logo patch.
Pants are best kept in a dry, cool location. Whether you want to fold them or hang them, do it neatly. Plastic bags and boxes should be avoided because of the dangers of trapping moisture and odours inside. The fabric or dye may be ruined if you store it with mothballs or cedar chips.
Conclusion
You may wear your Gramicci Original G Pants to the office, Italy, and Yosemite without worrying about how they will hold up. Originally made for rock climbing in 1982, these trousers have since become a symbol of quality and comfort in the fashion industry. Features and benefits like as a gusseted crotch, an elasticized waist, long-lasting cotton, and a relaxed design set them apart. The cut and fabric make them ideal for rock climbing and other outdoor pursuits while also being flattering and fashionable for everyday use. They may be worn at the office, in Italy, or in Yosemite because of their versatility and adaptability.
Gramicci Original G Pants are a great option if you're looking for a pair of pants that can be tailored to your preferences and routines. They're a pair of bottoms that can boost your efficiency and style while also revealing something about your character and preferences.
Gramicci Original G Pants are sold at all major department stores and on the websites of all major apparel retailers. To find out about more about these trousers and the company that makes them, head on over to the Gramicci website. Don't pass up the chance to try out one of the greatest pairs of trousers for climbing and everyday life.
You're welcome for checking out my blog post. I really think you'll get a lot out of it and that you'll love it. Feel free to ask questions or make observations in the space provided. Please forward this to your loved ones if you found this content helpful.