Lipstick is a must-have for each woman's beauty kit. It has the power to transform one's appearance and boost self-esteem. Cigarette lipstick may become your go-to shade if you're a fan of retro fashion or just daring lip colours in general.
What is Cigarette Lipstick?
Cigarette lipstick is a term used to describe the dark red or burgundy shade that was popular in the 1920s-1950s. The name comes from the fact that this bold lip color was often worn by women who smoked cigarettes.
In recent years, cigarette lipstick has made a comeback as more and more people are embracing vintage styles. This classic shade looks great on all skin tones and adds a touch of glamour to any outfit.
The Best Cigarette Lipstick Brands
If you're looking for the perfect cigarette lipstick shade, there are plenty of brands that offer this classic color. Here are some of our favorites:
MAC Cosmetics – Diva
MAC Cosmetics' Diva is one of their most popular shades, and for good reason. This deep burgundy color has hints of brown undertones that make it perfect for fall weather or any occasion where you want to add some drama to your look
Nars – Fire Down Below
Nars' Fire Down Below offers a more muted version which makes it ideal if you want something less dramatic but still gives off vintage vibes.
Rimmel – Burgundy Shine
Rimmel's Burgundy Shine is a great option for those on a budget. This lipstick has subtle shimmer that catches the light and adds dimension to your lips.
The Best Cigarette Lipstick Shades for Every Skin Tone
While cigarette lipstick looks great on everyone, some shades work better with certain skin tones.
Fair Skin Tones: Revlon Super Lustrous – Black Cherry
If you have fair skin, you'll want to go for a brighter shade of dark red or burgundy. Revlon Super Lustrous' Black Cherry has hints of purple that make it pop against fair skin tones.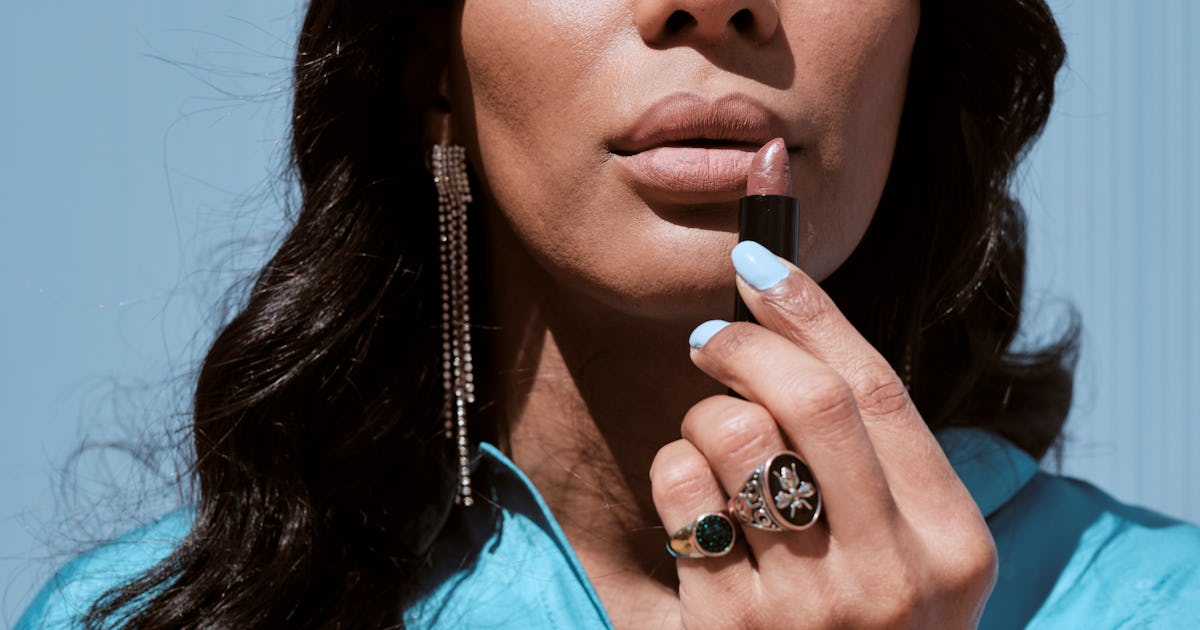 Light Skin Tones: Clinique Different Lipstick in A Different Grape
Clinique's A Different Grape offers a softer shade which complements lighter skin tones without being too harsh. The pink undertones in this lipstick shade make it perfect for everyday wear.
Middle/Neutral Skin Tones: Maybelline Color Sensational Creamy Matte Lipstick in Divine Wine
If you have neutral or middle-toned skin, Maybelline Color Sensational Creamy Matte Lipstick is perfect with its rich berry color and matte finish which gives an alluring look.
Olive/Dark Skin Tones: NYX Professional Makeup Soft Matte Lip Cream in Copenhagen
NYX Soft Matte Lip Cream in Copenhagen is perfect for those with darker skin tones. Its deep plum shade makes it a popular choice and works well with both cool and warm undertones
Tips for Wearing Cigarette Lipstick
Cigarette lipstick can be tricky to wear, but these tips will help you rock this classic look:
Exfoliate your lips before applying dark lipstick shades. This will ensure that the color goes on smoothly and doesn't look patchy.
Use a lip liner to define your lips and keep the color from bleeding or smudging throughout the day.
Avoid using too much eye makeup when wearing cigarette lipstick. Keep your eye makeup minimal so that the focus stays on your bold lips.
If you're worried about staining your teeth, apply some petroleum jelly on them before applying lipstick- This helps prevent stains by creating a barrier between the pigment of the lipstick and your teeth.
Conclusion
Cigarette lipstick is an amazing way to add vintage glamour to any outfit without looking outdated. With these options available above, we hope you've found one or more favorite options that suit all skin tones!
The best part? You don't have to smoke cigarettes just because you love their signature red lipsticks – instead, get inspired by its glamorous style only!