If you're sick of looking the same, try gypsy makeup. In addition to making you look very charismatic, the look will give you a mysterious vibe that will go with everything.
Gypsies come from the Roma, an ethnic group. The Roma came from India and moved through Western Asia, the Middle East, and eventually Europe. Their ancestors came from multiple countries on the other side of the world. The vast majority of Roma live in the Middle East or Europe today, but they can be found on every continent where people live.
Roma have the same unique genes and a common culture. Some of them have accepted and reclaimed the term "Gypsy," but many others think it's an insult. Many Roma use the term with pride, while others try to avoid it at all costs. Whenever we use this word, we are just using it as a search term, not in a racist way.
What You Need to Know Before Copying Their Look
The Romani hold on to their traditions, beliefs, and even their ethnicity. Most of the time, they don't talk much about their day-to-day lives. The way they dress and style themselves with beautiful clothes, jewelry, and a variety of hairstyles makes them stand out. That's what makes them so appealing.
Romani people are also the subject of a story that makes it sound like they aren't human at all but are actually mythical creatures. The truth is that racist laws forced Romanians to live at the edge of civilization. In the past, Roma moved around because they were not allowed in certain parts of the country.
A common thought is that they were migratory because they chose to move. Unfortunately, this wasn't true. Over the centuries, they had many jobs taken away from them, so they turned to trade, fine arts, and fortune-telling to make enough money to support their families. Some of them lived on the edges of society or even died because they were stuck in a hostile country.
Roma are treated badly because they keep secrets, believe in myths, and live apart from society. Hollywood's treatment, poverty, and low population have put them on the sidelines when it comes to civil rights.
Here, we'll talk about how they put on their makeup to get their look and style, and it's only for informational purposes. We don't want to offend Roma in any way. When you decide to do Romani-inspired makeup, it is your job to learn about them and share their story, struggles, and culture along with the look.
What does Gypsy makeup mean?
Gypsy makeup is, as the name suggests, makeup that makes a person look like a Romani. Makeup isn't just for hiding dark spots, dark circles, making your eyes look brighter, or making you look like you're about to go to an event. It does a lot more than that.
You can do whatever you want with the right makeup. You can do anything with gypsy makeup, from making freckles go away to adding fake freckles, from hiding spots to showing fake spots, from a casual look to a gypsy look for Halloween.
People often think of carnivals, witches, and fortune-tellers when they think of gypsy makeup. It is an art form that is said to have started with the Romani people in Europe many centuries ago.
The typical look is heavy eyeliner on the top lid, little to no eye shadow, deep red lipstick, a light foundation to bring out certain features, and natural blush on the cheeks. There are different stories about how long it takes to finish this look. Some say twenty minutes, while others say two hours.
The gypsy makeup look became popular when many makeup artists started doing it for Halloween a few years ago. On Halloween, you don't have to look scary by dressing up as a witch or a scary character from a movie. You can also look great just by being mysterious.
Gypsies are people who live just like us. You don't need a special makeup product to get their mystical look. You can do your makeup with the basic makeup products that are already in your vanity.
How to do Gypsy Makeup?
To look like a mysterious gypsy makeup, all you need to do is follow these steps:
First, clean your face well, because that's the first step for any kind of makeup.
Apply moisturiser and then primer because your skin needs to look healthy, glowing, and smooth because gipsies are known for having beautiful, shining, healthy faces. So make sure you prep your skin well.
Then add your foundation. You should pick a shade that is two to three shades darker than your natural skin tone. For a bit of a tanned look, you recommend going a few shades darker than your skin tone.
Then, apply concealer that is a few shades darker than your normal concealer. If you didn't, it would just look like a mismatch of tones on your face.
Then comes a highlighter. Since gipsies are known for their glowing, tanned skin, you can go overboard with the highlighter, but you don't want to blind people with its shine. Use a lot on your cheekbones, chin, cupid's bow, and forehead.
It's time to pick up the blush. Get your favourite blush, but it should go well with the shade of your foundation. Add it to your cheeks.
Up until now, you were done with your face. Now come the eyes, and it's all in the eyes. The mystery of gipsies comes from their eyes, so be careful when doing the eyes.
Here is how to do the classic black smokey eyes that gipsies do:
First, apply concealer to the upper lids of your eyes.
Put a thick layer of kohl pencil in a jet-black colour along your lower lash line.
Do the same for your upper lash line.
When you are done putting a thick layer of kohl on your upper lash line, you can smudge the kohl with a smudger or an eye brush.
Next, take a smokey black colour with a bit of shimmer and apply it to your upper eyelids.
Spread out the kohl a little and smudge it a little more.
Apply a lot of highlighter to the inner corner of your eyes.
Finish with fake eyelashes and a thick coat of jet-black mascara, and your eye look is done.
Now comes the last part of the face makeup, which is the lipstick. Gypsies are often seen wearing very dark shades of lipstick on their lips. So, choose a dark colour, like a very dark red, purple, brown, or even black.
Ideas for Gypsy Makeup
You can do a lot of different gypsy makeup looks besides the ones shown above. Makeup is all about trying new things, and you can try out all the different kinds of makeup looks. Here are some makeup looks you can try:
Look #1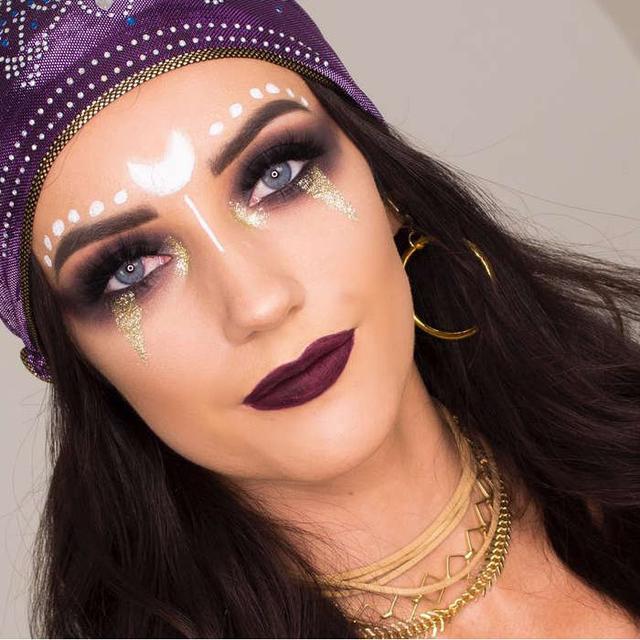 The base will remain the same. You will only need to change how the eyes look. From black smokey eyes, you can go to a golden cut crease look. Add some silver stones around your eyes for a contrast. When you get to your lips, put on a nude-colored lipstick, then put a few dots of silver gloss in the middle of your lips and one stone on your lower lips.
Look #2
The second look has a pop of colour to it. Start by putting a bright silver shade of eye shadow on your brush, dusting off the extra, and blending it evenly on your upper eyelid. Now take some red eye shadow and start lining your eyes with it. You should only use the red colour to line your upper and lower lash lines. Now, smudge the red colour a little and draw it on your crease as well. You can also just wing it. Use a dark-red lipstick. You could also add some stones. Don't forget to highlight your inner corner.
Look #3
The next look includes some red. Take a red eye pencil or eye shadow and apply it to the outside and inside of your eyelids. Now, take a metallic golden brown colour and apply it to the centre of your eyelid. Now mix it all well. Add a bit of shine on top. Now, put eyeliner on and make a wing that goes towards the outer corner and the inner corner of your eyes. Add lashes and finish with a thick coat of mascara, and your eye look is done!
These are some ideas you can use to create an exotic gypsy makeup look.
Advice for the Gypsy Makeup Look
Most of what gipsies wear is loose. Their clothes are big and chunky, with prints, tassels, and jewels. They also associate themselves with a lot of body stones. So stick to that stuff to get the gypsy feel.
When doing your makeup, apply the highlighter before the foundation, and then continue with the other steps. This will give it an extra glow.
Bronzer is an important step because it will give you a glowy, sun-kissed look.
Gypsies are all about headdresses. You can go on with a headband or a scarf. They are known for their thick, curly hair, so you can add hair extensions to complete the look.
You can also add different hair extension colours, but stick to dark colours like red, black, and purple.
You can buy as much jewellery as you want, but it should be big and not at all delicate.
You can add all the pops of colour you want to your makeup look.
What to wear to a Gypsy Makeup party?
Makeup is only half of a full gypsy look without the right clothes and accessories. Here's what you can do with your clothes to complete a gypsy look.
For the first look, you'll need a halter-neck top with a bohemian print or that's been stitched with beads and stuff, and for the bottom, a long skirt with a bohemian vibe. Take as many kinds of chunky jewellery as you can and wear them all. Tie a small section of your front hair into braids and add a scarf to finish the look.
For the second look, you will need an off-the-shoulder maxi dress with bell sleeves. Tie a boho belt around your waist. Add a headband, some big chunky bangles, and chokers, and you're done.
For the third look, wear a skirt with a side slit and a one-sided off-shoulder top. Try to find dresses with tassels, or you can sew the tassels into your dress. This will give it a more boho vibe.
Kaftans are also often associated with gypsy looks, so you can definitely wear one.
The gypsy look is all about trying new things and not sticking to simple, understated looks. You can go as colourful and crazy as you want, both with your makeup and your dress, but don't forget to keep the gypsy makeup spirit.