Saint Laurent, one of the most influential fashion brands of the 20th century, is often credited with redefining the ways in which fashion and culture intersect and influence one another. Yves Saint Laurent established the label in 1961; its signature pieces include the women's tuxedo suit, the Mondrian dress, the safari jacket, and the Opium perfume1. The business has also been an innovator in the cosmetics industry with its signature makeup collection, featuring vivid colours with beautiful pigments housed in très luxe hallmark gold containers. Here, you'll learn the techniques used to create Saint Laurent's signature flawless makeup and perfectly coiffed runway hair.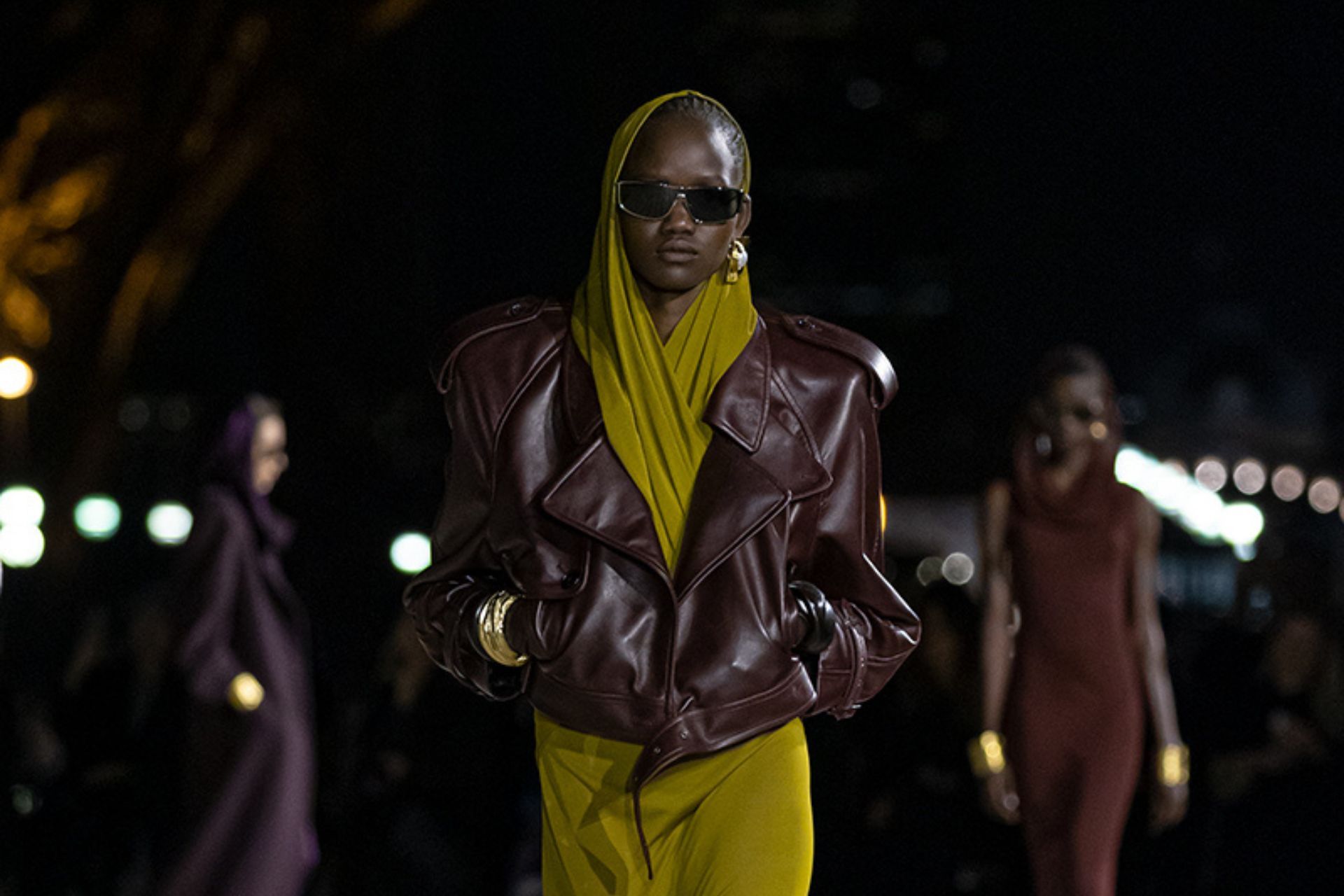 Saint Laurent's makeup philosophy and products
Saint Laurent's concept on cosmetics is to let people feel confident in their own skin by allowing them to play up their individuality and creativity. Makeup, in the brand's view, is not a disguise but rather a means to express one's individuality. The most attractive aspect of a woman is her passion, as Yves Saint Laurent famously put it. However, beauty products are more accessible.
Saint Laurent's cosmetics are crafted to showcase the label's opulence and sophistication through their high-quality, intense colours, superb pigments, and opulent packaging. Makeup that has stood the test of time includes:
Touche Éclat is a popular highlighter pen that may be used all over the face to add a healthy glow. It brightens the skin, hides dark circles, and emphasises facial features. It's available in an array of tones to complement a wide range of complexions.
Lipsticks in the Rouge Volupté line are known for their intense hues, smooth feel, and enticing sheen. They can have a glossy or matte surface, a velvety cream or candy glaze finish, and so on. In addition to protecting and moisturising the lips, substances like pomegranate extract, hyaluronic acid spheres, and antioxidants are included.
High-shine liquid lipstick with the softness of a cream, the impact of a lipstick, and the longevity of a stain; this is Vinyl Cream Lip Stain. The glossy look it imparts lasts for up to 10 hours and is easy to apply. In addition, the diamond-shaped applicator aids in the product's ability to precisely apply colour and shape the lips.
Some of the Saint Laurent cosmetics available are those listed above. The company also produces a wide variety of various cosmetics for the face, eyes, nails, etc., to meet the demands and tastes of its customers.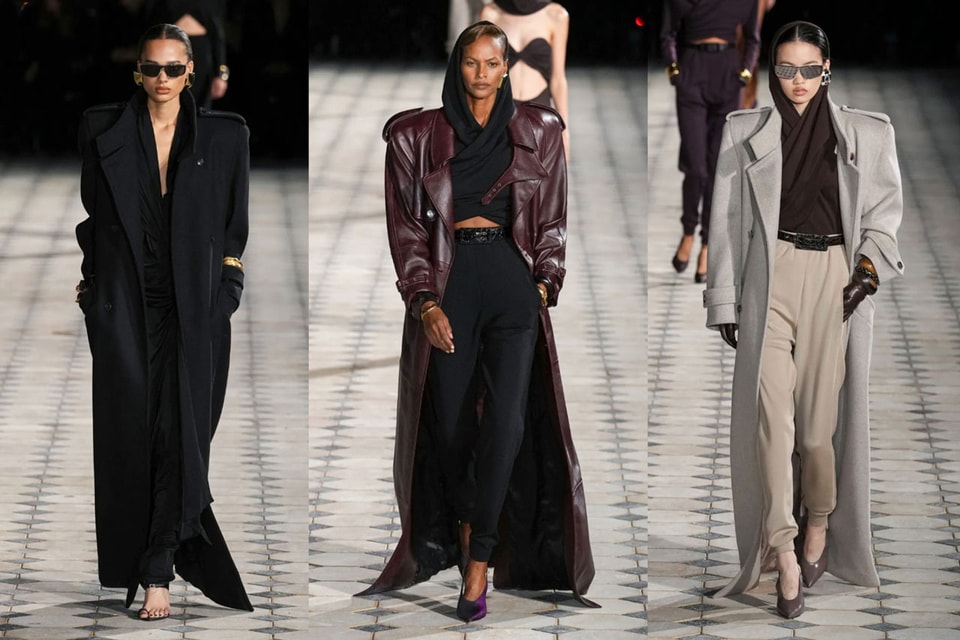 Saint Laurent's makeup trends and looks on the runway
Saint Laurent's runway makeup trends and looks highlight the label's flair for originality in developing eye-catching cosmetics to accentuate the label's exquisitely crafted garments and accessories. Each collection's mood and topic is reflected in the brand's one-of-a-kind and timeless designs by drawing inspiration from a wide range of fields, including art, music, culture, history, etc.
Recent makeup trends and looks shown in the Ready-to-Wear collections for Spring 2022 and Fall 2022 include:
The glitz of Paloma Picasso: Yves Saint Laurent's friend and muse from the 1970s, Paloma Picasso, inspired the label's Spring 2022 collection. The makeup was characterised by a gorgeous harshness, as evidenced by the black hair, scarlet lips, smokey eyes, and dramatic jewellery. Minimalist stylish tuxedos, jumpsuits, coats, etc. were worn to contrast the overall style, which emphasised masculinity.
Perfect skin, unaltered brows, understated eyes and nude lips typified Saint Laurent's minimalistic stylish Fall 2022 collection. The style was worn with clothes that emphasised the wearer's shape and motion, such as long dresses, fitted jackets, slim skirts, etc. Reflecting Saint Laurent's expertise in tailoring and proportion, the style was understated elegance.
The Pop Art hues: Saint Laurent spiced up the looks in both seasons with flashes of colour. There was everything from fuchsia pink to fiery red to brilliant green to electric blue. Colour was added to the eyes, lips, cheeks, etc., for a contrast that was both joyful and playful with the outfit and accessories. Yves Saint Laurent's early collections were heavily influenced by Pop Art, and their hues reflected that.
Saint Laurent is responsible for a lot of groundbreaking makeup and beauty looks, and here are just a few of them. Always achieving magnificent and coherent looks that represent the essence of Saint Laurent, the brand always manages to create contrast, balance, and harmony between the makeup, clothing, and accessories.
Saint Laurent's hair philosophy and products
Saint Laurent's approach to hair care is to highlight each individual's style and texture by using simple, flexible, and adaptive products. The company's products are based on the principle that one's hair is an expression of who they are and how they want to be perceived. "Fashion fades, style is eternal," Yves Saint Laurent once stated.
Saint Laurent hair care items are crafted to provide wearers with outcomes that are in keeping with the brand's ethos and may be used in a variety of situations. Among the most recognisable hair care brands are:
Nu Bare Look Tint is a coloured hair moisturiser that gives your hair a natural wash of colour and a glossy sheen. It's available in a wide range of tones to complement a wide range of hair colours and skin tones. Coconut water, aloe vera, and vitamin E are just a few of the hydrating and protective elements that are included.
Smoothing and diffusing the look of frizz, flyaways, split ends, and more, Touche Éclat Blur Primer is a primer for the hair. It gives the hair a subtle glow and shine. Before or after you style your hair, you can apply this product. In addition to conditioning and moisturising the hair, it also contains nutritious components including corn oil, apricot kernel oil, rice bran oil, etc.
Crushliner is a liquid eyeliner that can be applied to hair to give colour and dimension. It's available in a rainbow of hues, including black, brown, blue, green, etc. It's versatile enough to be utilised for a wide range of effects like highlighting, shadowing, streaking, etc. The hair is softened and strengthened by the use of nutritious nutrients like argan oil, jojoba oil, sunflower seed oil, etc.
These are but a few of Saint Laurent's many hair care options. In addition to shampoos and conditioners, the brand also offers a wide variety of other hair care products, including masks, sprays, and more.
Conclusion
The beautiful hair and cosmetics shown on the runway at Saint Laurent have served as an inspiration to generations of women. The brand's makeup ethos and offerings reflect its identity and vision of giving women the freedom to express themselves creatively via the use of makeup. The brand's hair concept and products aim to bring out the best in your hair by bringing out its natural beauty and texture. In addition to the clothes and accessories, the brand's runway shows off its innovative and creative cosmetics styles and trends.