You want to make a website for your wedding, but you don't know where to start. There are many luxury wedding website builders out there, and they all offer very similar features, like stylish templates, custom URLs, and online RSVP management, to name a few. We tried out the best wedding websites so you didn't have to. We looked at the pros and cons of each one so you didn't have to. This can be hard to figure out, so use our list of pros and cons to quickly and easily compare sites like Minted and Zola, for example. Read on to see our list of the 10 best wedding websites.
1. MINTED
COST
Minted's wedding websites are free and come with a photo and video gallery, custom pages, password protection, and more. You can choose from hundreds of designs made by independent artists on Minted's marketplace. Then, you can add your wedding information, your love story, and your favourite photos.
You can upgrade to a custom URL for $15.
The Custom Design Services team at Minted can help you make a wedding website that is completely unique and made from scratch. The price will depend on what you want, and your designer can give you a quote.
Set up a Wedding Website Service appointment ($49) here to have a member of Minted's Wedding Concierge team help you set up your wedding website.
PROS
The most website designs (1,400+) to choose from among the sites we looked at, which means you'll probably find the best wedding websites to match your wedding's style, colours, and overall look. You can also change your design whenever you want as your ideas about your wedding day change.
The Minted wedding website builder has templates that are modern and stylish. They are made to match an entire suite of invitations and other wedding stationery, such as programmes, place cards, menus, table number signs, favour tags, thank you cards, etc., so that everything will look the same.
Each website template comes in different colours and layouts, so it's easy to find one that fits with the style of your wedding as a whole in the website builder. Many of these features, like fonts, are flexible and can be changed, so you can really make the website your own.
Allows you to list and collect RSVPs for multiple events, both public ones (like the wedding) and private ones that only certain people can see (e.g., bridal shower, rehearsal dinner). You can also reset RSVPs if the date of your wedding or other event needs to change.
Their Universal Guest List makes it easy to get mailing addresses from guests. Instead of finding addresses one by one, this tool will send each guest an email asking for their snail-mail address. The addresses will be saved in your online address book (and can be used later to address your wedding invitations, place cards, thank yous, etc.).
The only platform with a fully customised option is: If you don't find a design you like, you can work with a Minted designer who will make custom artwork for your website from scratch.
CONS
It can take time to look through all of the website designs.
Bottom Line:
Perfect for design-savvy couples who want a stylish wedding website that matches their wedding invitations and stationery and don't mind spending $15 for extra features.
2. ZOLA
The company that is known for its wedding registry service has websites for weddings that make it easy for guests to find your registry.
COST
The wedding website is free, but you have to pay $14.95 to get a custom domain.
PROS:
There are more than 300 quick and easy wedding website designs to choose from.
Each design for a website is also available in paper wedding stationery, like save-the-date cards and invitations, that go with it.
The password protection for the wedding website templates from Zola is free.
Ability to make some details private so that only invited guests can see them. For instance, wedding plans, travel information, the registry, etc.
You can host a virtual wedding event right on your wedding website so that guests can easily take part in celebrations from far away.
You can easily keep track of plus-ones, meal preferences, requests for transportation, etc., with a strong guest-list management system.
Guests can buy gifts from your registry directly from your wedding website if you've chosen to use Zola's registry features. It will also help you keep track of who gave you a gift and who you've thanked (see our tips for how to write a thank you card!)
CONS
You can't make simple changes to your website, like changing the fonts or how text and images are laid out, so your only option is to choose a new design.
If you don't use a Zola registry or want to list more than one, it's limiting because you have to add gifts one by one from other retail sites.
BOTTOM LINE:
A simple place for couples who want Zola to take care of their registry. If not, the templates and tools make it hard to change things and add things from outside.
3. SQUARESPACE
Squarespace is known for its drag-and-drop website builders, which are often used by designers for their portfolios and small businesses. For tech-savvy couples, Squarespace also has a number of wedding website options.
COST
$16 per month or $12 per month if paid yearly.
PROS
The templates for wedding sites are very clean and modern, with a focus on photos. Make sure to read our tips from pros on how to take good engagement photos.
The Squarespace wedding website templates give you a lot of freedom to change the designs, fonts, where the text goes, the background, and the size of the pictures. Squarespace is on our list of the best wedding websites because it gives you so many options.
With Instagram integration, you can automatically add pictures from your wedding hashtag to make a fun keepsake after the wedding.
The RSVP form can be changed, so you can not only ask guests if they are coming, but also if they want to bring a plus-one, what they would like to eat, what songs they would like to hear at the reception, and more.
When you sign up for an annual plan and pay the fee, you get a personalised domain name for the first year.
Using Zola's registry integration, you can show a few of the gifts on your wedding registry so that guests can look at them without leaving your wedding website. Also lets you use image blocks with clickable URLs that lead to other registry sites (such as Amazon, Crate & Barrel, etc.)
With Squarespace's mobile app, you can make changes to your wedding website while you're out and about.
CONS
At first, it was hard to find wedding templates on the site.
There are only 30 wedding website templates to choose from.
No plan for free.
Guests fill out a form with their name, the name of a plus-one guest, and answers to any questions you may have asked. This is the only way to manage RSVPs. It would be hard to handle if you had a big wedding and/or didn't let everyone bring a guest.
As a wedding website builder, it's not as easy for beginners to use as other platforms, and if you don't know how to code and have never worked with anything web-related, it would take a lot of time.
BOTTOM LINE:
This is the best option for tech-savvy couples who want to create a custom wedding website template from the ground up.
4. JOY
All of their wedding websites come with an app, which is helpful if you want to manage your site while you're out and about.
COST
PROS
Wedding websites come with a mobile app, so you can update your website through the app and get push notifications when guests RSVP. Guests who download the app can access your wedding website from their phones and add photos.
The Joy wedding website can have more than one administrator, like your fiancé(e) or your wedding planner, so that more than one person can work on the wedding website at the same time.
The "Moments" timeline lets you collect guests' photos (and even stream them in real time at the wedding).
Many website designs go with wedding invitation suites, so you can buy printed stationery to match your site.
CONS
There aren't many template themes, and most of them are based on flowers or nature and are more feminine.
There are only two possible layouts, so if you don't like either one, you're out of luck.
There is no way to add a custom URL, but they can forward your custom domain to your Joy URL if you have bought one.
There is no way for guests to RSVP to more than one wedding-related event (e.g. rehearsal dinner).
BOTTOM LINE:
A good choice if you want a free platform with a lot of useful features, like a photo-streaming timeline, and/or if most of your wedding guests might find a wedding app useful.
5. BASIC INVITE
This stationer now offers wedding websites that can be customised in a lot of cool ways (including a robust colour picker tool).
COST
PROS
The Basic Invite wedding website has more than 500 different template designs, ranging from romantic (florals, watercolours) to modern and neutral.
Each design is also available as save-the-date cards, invitations, and other paper wedding stationery.
The font, font colour, line spacing, and design colours can all be changed on templates (you can choose from more than 180 colour choices).
Once you have all the digital RSVPs, you can export the names of your guests to make printed place cards. If you're not sure who to invite to your wedding, read our article on how to make a guest list.
CONS
User experience is confusing; to try out and preview a different website theme, you may have to start from scratch and retype all your wedding information each time.
Each person who is coming fills out a form with their name, meal choice, and answers to any other questions you might want to ask. It would be hard to handle if you had a big wedding and/or didn't let everyone bring a guest.
BOTTOM LINE:
This is a great choice if you want to change a lot of things on your wedding website. The variety of colour options makes it easy to find the right shade to match your exact colour scheme. But the user experience leaves a little to be desired. Not being able to look at different website designs before choosing one was frustrating, and the very limited RSVP management can make your guests confused.
6. THE KNOT
COST
PROS
There are more than 160 different website designs to choose from.
With the app, you can keep track of RSVPs, make changes to your wedding website, and send guests push notifications.
You can collect wedding photos from guests as they are being taken by integrating with The Guest (without needing a hashtag or an outside app).
The Knot's wedding website templates can be paired with matching stationery to make the experience for your guests as smooth as possible.
CONS
The free plan doesn't come with a custom URL.
The designs of templates are polished but not very unique.
The online RSVP form can't be changed.
BOTTOM LINE:
Basic and easy to use if you like plug-and-play, but not the best choice if you want to make a lot of changes. Also, you can't do a lot of editing on The Knot's app from your phone, which could be frustrating if you plan to make a lot of changes to your website from your phone.
7. WEDDING WIRE
COST:
It's free, but you can pay $24 a year to get a premium site with a custom domain and no expiration date.
PROS:
Putting in a password is free.
The site's dashboard has tools for planning like a budget calculator, check lists, and a seating chart manager.
There is also a way to look up and talk to potential wedding vendors right on the site.
CONS
There are only 35 designs to choose from, and most of them look pretty simple in terms of graphic design.
You can't use the WeddingWire app on your phone or tablet to build or change your site.
BOTTOM LINE:
The WeddingWire website is best for couples who want a simple wedding website and easy access to tools that will help them plan their wedding.
8. RILEY & GREY
COST:
$35 a month, or $240 a year.
PROS
You can choose from more than 50 different website designs, all of which are stylish, up-to-date, and fully responsive.
You can also order matching printed wedding stationery through the site that goes with some of the designs.
On the Riley & Grey wedding website, you can list and collect RSVPs for both public and private events. Public events can be seen by anyone, while private events can only be seen by specific invitees.
The RSVP section is like a fun fill-in-the-blank Mad Lib (but the wording is fixed and not customizable).
A custom URL is part of the fee.
CONS
The most expensive paid platform we looked at, and there was no free option.
Paper wedding invitations are only available with a 12-month payment plan, and only for some designs.
Each design has a fixed background, fonts, and graphics that can't be changed.
BOTTOM LINE:
Choose this option if you want a wedding website with a modern design that looks and feels very high-end and you don't need a lot of choices.
9. APPY COUPLE
COSTS
$49 for the "boutique" option, which gives you access to designs and digital stationery, design trendsetters, publishing tools, and storage for guest list entries, RSVPs, messages, and photos. There is also a "luxury" option that costs $149 and has extra features like the ability to change the design, more designs than the "boutique" option, and more.
PROS
There are more than 500 different ways to design a website, and most of them are modern and stylish.
There is also an app that guests can download to stay up to date on all the wedding plans.
You can easily change the templates and add or remove different modules from a page.
The Appy Couple wedding website lets you send digital save-the-dates and invitations that match your website.
CONS
No plan for free.
You'll have to sign up for a paid account right away, even before you've seen what your site might look like or figured out if their website features are what you're looking for.
For all of the features to work, your guests will need to download the app as well.
BOTTOM LINE:
It's great if most of your guests know how to use technology and are willing to download the app. Also a good choice for couples who don't want printed stationery but plan to do most of their communication with guests online.
10. WIX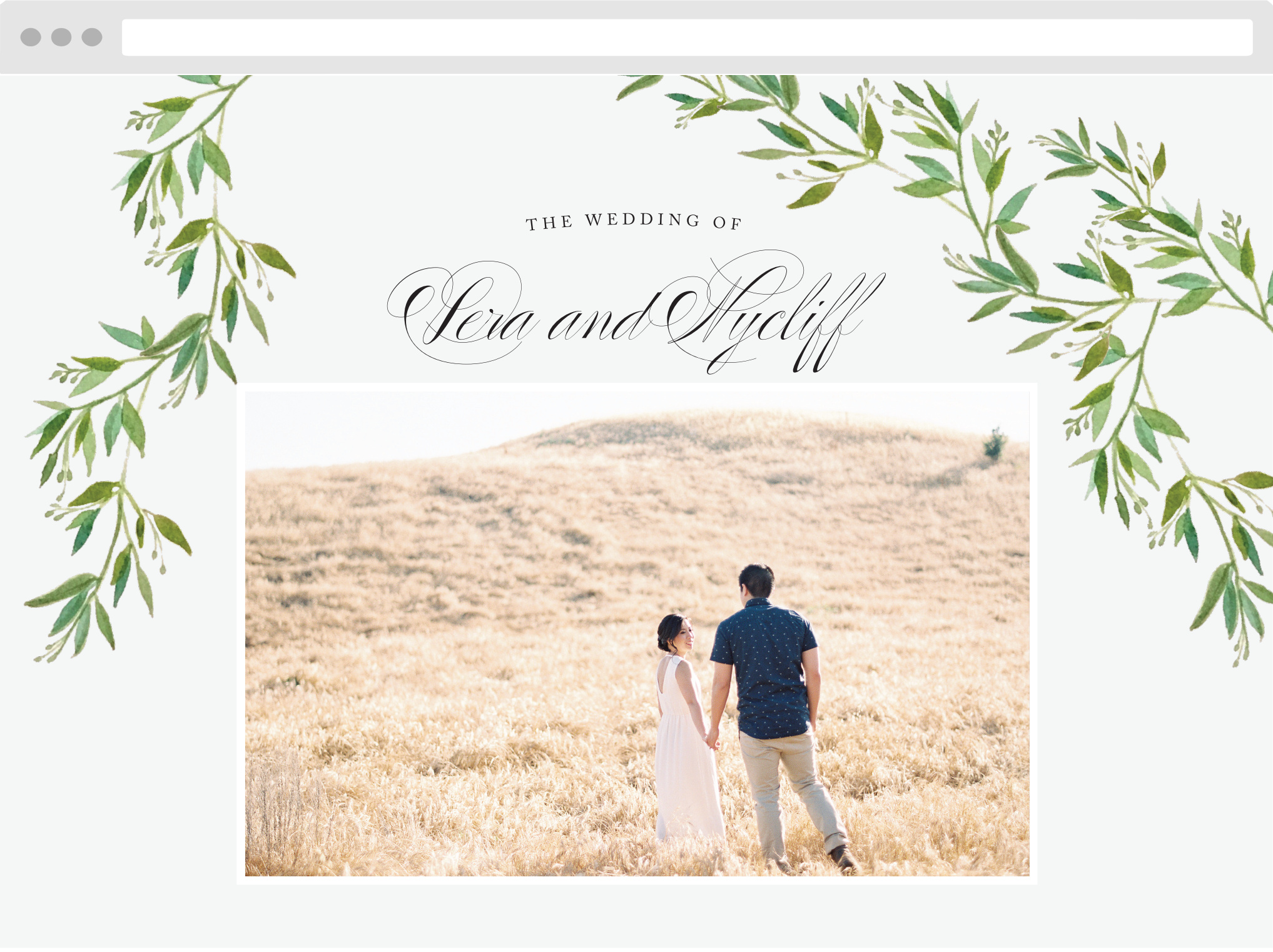 Wix, which is another popular website builder, also has templates for a couple's wedding website.
Wix is one of the most well-known website builders on the web right now. Check out how easy it is to make a website with their drag-and-drop site builder, which is great for couples who want a wedding website that they can customise without having to start from scratch.
COST
Free. You can get a custom domain and get rid of the "Wix" banner for $13 per month.
PROS
It has an easy-to-use drag-and-drop website builder, which makes it a good choice for couples who aren't very tech-savvy but still want some freedom.
You could start with a blank page if you already have something in mind or have worked with an artist to create a custom design or theme.
CONS
There is no way to RSVP online or manage a list of guests.
The free plan puts a "Wix" banner at the top of your website. You have to pay to get rid of it.
There are only 16 templates for wedding websites to choose from.
There is no built-in wedding registry feature, so you have to add your registry information by hand (links and images).
BOTTOM LINE:
The templates you can choose from are stylish and up-to-date, and you can easily change them with their tools. But it's too bad that you have to pay extra to get rid of the big ad at the top of your site, and some guests might be annoyed that they can't RSVP online.
FAQs
Q: Why do you need a wedding website?
A: The main reason to make a wedding website is to give guests a central place to find information about your big day and the upcoming events. Minted has made a complete guide on how to make a website for a wedding.
How long does the process take?
A: It depends on how much customization and formatting you want to do versus using a site that is already made. The most important thing is to include the important details, which can be done from start to finish in less than an hour with most builders, but could take up to three hours with a builder that gives you more freedom.
Q: What should you put in there?
A: A welcome message and a picture of you and your partner are nice to include. Include the important details, like your names, the date, time, and place of the wedding. If you know when things are going to happen, add that too. Your guests will also want to know how to get there, where they can stay, and if hotel blocks are available. Give your guests the option to RSVP online and your contact information in case they have any questions. Some people also have a FAQ section.
Q: How soon do you have to make it?
A: Between 6 and 9 months before your wedding, according to experts. As a first step, many couples like to set up their specialty site so that information can be printed on their Save the Date cards and their guests can start making travel plans, especially if they are having a destination wedding.